How To Check Out A Silver Dealer
By
Orlando Antonio
on Thursday, April 11th, 2013 |
Comments Off

on How To Check Out A Silver Dealer
When you decide to buy silver, whether it is silver bars, bullion, or coins, it's important to buy from a reputable dealer.  It is an unfortunate consequence of our bad economy that there are many precious metals dealers that have opened their doors specifically to take advantage of people who are trying to achieve some economic stability and security.  You can find these disreputable dealers on the internet or in a physical store in your own neighborhood.  You can even find them advertising in the media.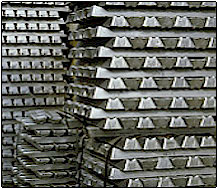 One indicator of the honesty and experience of a dealer is how they grade their coins.  Coins are graded according to their condition.  You may see a coin in a dealer's inventory that is graded AU (almost uncirculated)-55 but you can tell that there are visible signs of wear that should make it a VF (very fine) rating.  This is an indication that the dealer is inexperienced or trying to take advantage of potential customers with little knowledge of coins.  You do not want to buy silver of any kind from such a person.
Pricing is another indicator that can let you know if a dealer is reputable.  Most dealers have a standard pricing model, such as 5% over spot or spot plus $1.35 per ounce.  They will have that schedule posted where it's visible, either in a physical store or on an internet website.  Some have price structures based on volume, that is, the more you buy the cheaper it is.  If they don't have a set price per ounce for their premium you may either have encountered someone who likes to negotiate or someone who will charge you as much as he thinks he can take you for.  Be sure that you know which one before you place an order!
How long have they been in business?  This is not always a perfect indicator but honest and reliable dealers tend to be in business for a long time.  Do they have a physical office as well as a site online?  If so, make sure you call the number and look up the address to verify that they are really there.  You can also check their rating with the Better Business Bureau (BBB) of the area where they are located.  You can access the BBB online and check their record of complaints, if any, and how quickly they were resolved.  Most businesses will have a few complaints, it is a standard hazard of doing business, but a pattern of complaints should put you on alert.
Before you buy silver from anyone, put their business name in a search engine and find out what their customers are saying about them.  Don't stick with rating sites, although those are valuable.  Check out the results that come from forums, too, where people talk freely about merchants they deal with.
You may want to buy from a local dealer if you like to keep your finances as private as possible.  By paying in cash and buying locally, there are no reporting requirements so no one will know that you bought silver bars, coins, or other precious metals.  You can also take possession of your silver immediately.
Once you find a reputable dealer, stick with him or her.  Don't begrudge them the premium on your purchases because that's how they stay in business and support themselves.  Also remember that you should diversify your investments; the rule of thumb is to never have more than 15% of your total portfolio invested in anything.
Silver bars and other forms of silver are an ideal investment.  They are affordable for nearly everyone and easily used for barter if no other form of currency is available or recognized.  Be sure to check the silver spot price just before you buy silver so that you get a fair price of silver per ounce.