Buying Silver Bars Online
By
Orlando Antonio
on Tuesday, April 9th, 2013 |
Comments Off

on Buying Silver Bars Online
Nearly everyone has bought something online in the past ten years, including silver bars and other precious metals.  In fact, no matter what form of silver, gold, or other metal you want to buy you can check the silver spot price and put in an order with ease.  Whether you actually get what you pay for—or get anything at all—depends on how you go about buying your silver bars and other forms of precious metals.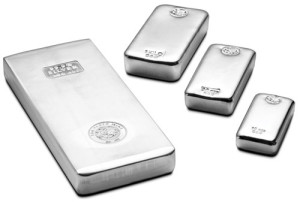 It takes more than checking the current price of silver per ounce to avoid getting ripped off when you're buying silver online.  No matter if you're buying silver bars, junk silver, commemorative coins or silver bullion coins, you can't trust just anyone with your hard-earned money.  One of the most popular scams is to send a product that is stamped ".999 fine silver" but is actually only a silver coating over a base metal such as nickel or lead.
Don't buy ETFs (exchange traded funds) when you're buying silver bars; they are not well regulated and a lot of the dealers don't even own the silver they are selling.  You'll also pay storage fees for silver they may not even have and they aren't audited.  Futures are also very risky when you deal with brokers you don't know well as there is a lot of room for fraud.
You should also never buy silver bars from television, radio, or magazine advertising, especially if it is "collectable" or "commemorative".  These have exorbitant markups, up to ten times the cost of the silver bars, plus there is a huge markup for all that advertising.
When buying silver bars you'll pay the silver spot price plus a small premium to the dealer, plus shipping and handling costs.  Handling is the packing materials and labor.  Premiums vary from dealer to dealer so it pays to check out several before you make a decision.  Be sure they are reputable by checking out their association memberships and searching them on the internet to see what their customers say about them.
Silver bars come in many sizes from less than an ounce to one hundred ounces so you're sure to find a product that fits into your budget.  The current price of silver is rising slowly but surely so the sooner you buy silver the better investment you'll be making.
Finally, be sure that you have a secure place to store your silver bars.  Although precious metals aren't as prone to fire damage as paper and other investable goods, you should store them in a fireproof or fire resistant safe.  The best type of safe is one that is too big and heavy to be removed from your home or is set in concrete in your basement or other permanent surface.  You may even want to take advantage of your bank's security and alarm system and rent a safe deposit box for your silver bars.